DJ Profile: James from VT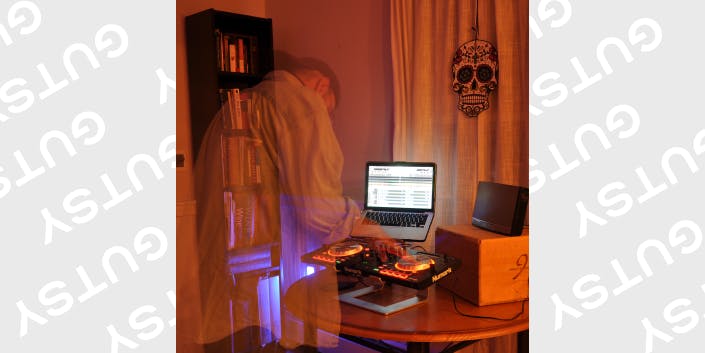 Hello! My name is James, and I would describe myself as a pretty passionate person, so I am so happy to be a part of Gutsy Radio, which is a real labor of love on the part of some very talented cats!
Have you DJed before?
Echoes of Electricity is my second regular radio show, but I've been the guy playing the tunes at whatever party we are at for a long time, I guess.
Why are you a DJ now?
In my view, every type of Disc Jockeying requires commitment, practice, and passion. That being said, the craft has, in this century, become much more accessible, and affordable, and that is why I am able to do it now in earnest.
How would you describe your show?
As a soundscape. My goal is to present electronic music, a source of great comfort and joy to me over the years, in the way I have been lucky enough to have it presented to me: a fluid journey of sound assembled by people with a real love of the genre. I'm referring to the likes of The Orb (Alex Patterson,) Aphex Twin, and of course the much-beloved (and greatly missed) master, Pete Namlook.
How do you assemble a show?
All hail the screen shot! As I am listening to music throughout the day, when I hear tracks that captivate me in a certain way I take a screen shot on my phone. When I sit down to assemble the show, I'll have 5 or 10 screen shots to start with that I put into a virtual 'crate.' From there it is a matter of creating an aural shape that (hopefully) makes sense; and finding tracks to complement and connect the ones I already know I want to play.
What's your favorite thing about DJing on Gutsy Radio?
Being a part of community that has come together purely for the love of the game.
What is a favorite show of yours in the Gutsy Radio archive?
Why do you like this show?
It's a little hard to quantify, but this show in particular...it is one of those rare ones where when I was done I said to myself "Yes! THAT"S what it sounds like in my mind." If that makes any sense.